Bitcoin, Credit Card and Gift Card Deposits at the US Friendly Cafe Casino
Café Casino is a US based online casino featuring a whole range of your favorite games. The site plays host to nearly 300 slots, as well as blackjack, video poker, a live dealer casino, specialty games and more. Having registered for the site, you'll need to make your first deposit (and take advantage of the excellent 500% deposit bonus up to $5,000).
As part of the same family as Bovada and Ignition, you can be certain that payouts will be quick – and service will be top quality at Café Casino.
To make a deposit you'll need to click on the profile icon at the top of any page – this is an option on both the desktop version of the casino and the app. Now you'll simply click on the 'Deposit' option which will be found under your name. Another screen will appear with your 3 potential deposit options.  This guide tells you all need to know about each of those available deposit methods available, with a step by step guide to each.
Cafe Casino has plenty of promos (including the fun weekly mystery bonus!) in addition to their generous deposit offers – check out www.cafecasino.lv for the latest deals now!
Get the Biggest Bonus: Bitcoin Deposits at Café Casino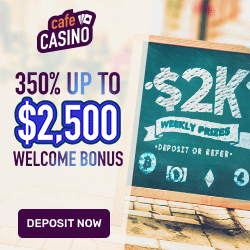 The first and most popular deposit option at Café Casino is Bitcoin. To get started at Bitcoin, you'll need two things – an exchange account and a wallet. This is a simple process once you have these two components set up.
You'll be able to take advantage of the huge 500% welcome bonus, see the terms on www.cafecasino.lv
The wallet is an online account where you can store your Bitcoin. While large BTC deposits use hard wallets, for smaller amounts you can use the one which comes with your exchange account.
The exchange account is where you'll buy your bitcoin – think of it a little bit like the stock exchange. Once you have an exchange account and have purchased Bitcoin, you'll then exchange the virtual currency into your wallet. Once in the wallet, you'll be able to do what you want with the Bitcoin, including depositing to Café Casino.
Your first step is to create the wallet, then having funded the wallet with your purchase at the exchange account, you'll be ready to make the deposit.
If you are still unclear, there is a step-by-step guide over at www.cafecasino.lv
The Café Casino Cashier
Having chosen the Bitcoin option on the deposit page, a new page will appear. Halfway down you'll find a section that states – 'Send your Bitcoin to this address', along with a generated code you should now copy. You'll now launch your wallet on this page, paste the destination address you just copied and enter the amount you'd like to deposit. Confirm the transaction and the transaction is complete. You can also scan a QR code instead of copying pasting the generated code.
All deposits must be wagered completely before any winnings can be withdrawn. By not meeting this requirement, your crypto withdrawal is subject to a 10% deduction or cancellation at the discretion of the withdrawals team. This is simply to guard against money laundering.
When you deposit with a cryptocurrency, one confirmation on the Blockchain is required prior to posting the funds to your account.  This can take approximately 15 minutes under normal conditions but can take longer when the network is busy.
Bitcoin Cash at Café Casino
Bitcoin Cash is another digital currency, just like Bitcoin, but introduced by developers who were concerned about the transaction processing time (as exampled above). As such, a Bitcoin Cash deposit will be that bit quicker than a Bitcoin deposit.
Bitcoin cash is a different currency to Bitcoin (despite being under the same banner), so will have a completely different value; Sending a Bitcoin deposit with a Bitcoin Cash address or vice versa will not work and may result in the loss of your funds.
Transactions using Bitcoin Cash are made in exactly the same way as Bitcoin, as described above, meaning you'll need a wallet and sign up for an exchange account.
Depositing with Credit Cards at Café Casino
Credit Card deposits can be made with a selection of card types, most notably Visa, MasterCard and American Express. To make a deposit, choose the 'Card' option on the deposit page and then select your card type. You'll now have to type in the long number across the front of the card, as well as the expiry date and the 3-digit CVV number on the back of the card. Now simply choose the amount you want to deposit, hit submit and you're done. If a card is blocked, the casino suggest you try an alternative card, or an alternative payment method.
Using a credit card to make a deposit isn't always successful, due to some financial institutions blocking payments to gambling sites. After 3 deposit failures, the casino will block any further attempts with that card for 24 hours. In total you can store up to 5 cards on your account at any one time.
Gift Cards at Café Casino
Gift cards work in the same way as credit cards when making a deposit. You can purchase these cards with funds already loaded onto them, but you will have to ensure that they are approved for 'Online International Purchases'. If you try to make a purchase with a gift card that states 'For Domestic Use Only', the purchase won't go through. Once you've activated a gift card, it can take up to an hour before it can be used to make a deposit.
If successful deposits are made with either a credit card or a gift card, the funds will hit your account immediately.
Wrapping Up: Café Casino Deposit Methods
There is a lot to like about Café Casino – from their quality selection of slots to their unbeatable bonus deals (500%!!). As part of the same family as Bovada and Ignition, you'll be able to deposit and play with complete peace of mind.
Check out the latest promos at www.cafecasino.lv for yourself now!
More Casino Deposit Methods Articles: